First, the bad:
Needlenoggin's attendant and friend, Miss Manhattan: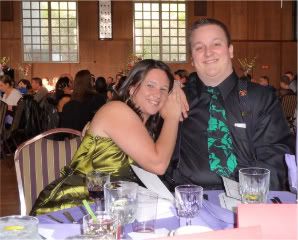 had her apartment in Oakland (far, far away from here) broken in to. The thieves ate food out of her fridge (?) and stole her laptop, which had her 20 page RN final on it. Yeah, sucks.
*-*-*-*-*-*-*-*-*-*-*-*-*-*-*-*-*-*-*-*-*-*-*-*-*-*-*-*-*-*-*-*-
My Godfather, Tuffy's uncle, lives up here in NorCal. He was home, doing some minor home improvements that include hauling junk to the dump, and was trying to load heavy, wheeled items into a pickup by himself. Long story short, he injured his right shoulder, broke his left arm, banged up his head and shattered his right knee. It'll require surgery.
His wife was at work, his phone was in the truck, and he obviously wasn't going to walk for help. Luckily, a neighbor heard him calling, and got the fire department over. Now he's home recuperating with company from a friend, but he's having to hop in a walker and swing from a rope wound through the rafters, and he looks mightily uncomfortable.
Worse, the poor guy, who loves to garden and work in his vineyard, can't get out of the living room/kitchen area. But, we still have Needlenoggin's powerchair! I think we're taking it over this weekend to see if it'll help put a smile on the guy's face. it should be able to go out on dirt and gravel, and allow him to travel over the grass and get out in his backyard. I hope this is a good fit.
In good news:
Congrats to my cousin and two of Tuffy's siblings who are graduating from college, as well as my fellow Student Parents from Cal Berkeley. My Godmother's son graduates this month and gets his Lieutenant's commission in the army, and his wife graduates with honors from the same school.
*-*-*-*-*-*-*-*-*-*-*-*-*-*-*-*-*-*-*-*-*-*-*-*-*-*-*-*-*-*-*-*-
Congrats to Lisa (she lived below us pre-accident) who just got a cool new job. Awesome. Two of our other pre-accident roomies are having a baby this summer as well. Yay!
*-*-*-*-*-*-*-*-*-*-*-*-*-*-*-*-*-*-*-*-*-*-*-*-*-*-*-*-*-*-*-*-
Congrats to an "internet friend" who won her primary race for public office!
*-*-*-*-*-*-*-*-*-*-*-*-*-*-*-*-*-*-*-*-*-*-*-*-*-*-*-*-*-*-*-*-