Let me first say that what
BORP
does is amazing. I mean, really and truly, it is a fantastic organization that gives so much to so many people. Giving people with disabilites the chance to participate in sports like goalball, powersoccer and wheelchair basketball is so tremendous, and their cycling program is the best I've ever seen.
That said, one of their fundraisers every year is the
Revolution
. It is a few bike rides, from 10 miles to 100 miles, as well as an auction and a festival, that raises funds for BORP's program. There are volunteers who ride at the front of tandem bikes so that blind riders and do the ride. People ride handcycles, tricycles, and other adaptive bikes, so that people of all ability levels can participate, from all age groups. Just thinking about the people we saw at the Revolution makes my heart swell, as so many of them face much greater obstacles than you or I, and they were still out there raising money for such a great cause.
Of course, you know Needlenoggin, Tuffy and I signed up for this a few months ago. The plan had been for Tuffy, the kids and I to do the 25 miler, and for Needlenoggin and Miss Manhattan to do the 10 miler. However, the move to Oregon sort of changed out plans, and since Miss Manhattan was feeling ill, we decided to do the 10 miler with Needle ourselves. My mom wached the kids at our home in Portland. We flew down the night before, rested as well as we could, and then trekked up to Napa to ready for the ride.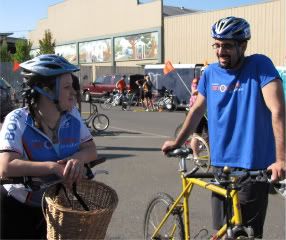 We got all suited up and ready to go, and then the ride began. Now, please remember, as you read this, that ONE year ago, almost to the date, Needlenoggin came home in a power wheelchair. He had a chest stap to keep him from falling out of the chair because his abdominal muscles wouldn't hold him up. He couldn't get in and out of bed by himself, shower, use the bathroom, and he was 290lbs. His lower body only felt one sensation...neuropathic pain, and his spasms were so bad that they could, and did, throw him out of his bed to the floor.
Helmet on, feet strapped into the pedals of a borrowed adaptive Sun Tricycle, Needlenoggin paused for just a moment at the starting line, and then pushed his left leg with all of his might. The bike moved forward. His right leg hasn't quite got to where it moves in any kind of automatic function, so the pedal moved it around as his left leg pumped. Down the bike trail we rode, talking about the trees and the plans for the evening, and petty soon, his right leg was into the ride as well, pushing and pulling for all it was worth. Up a hill, up another. "Well, at least the first half is uphill," I said. "That'll make the ride back easy."
Around the next corner, we came to a downslope, onto a street with cars. Needle didn't pause. Down he went, flying past other riders, and clearly enjoying himself. We turned onto the next bike path entrance, and I panicked. There was a lovely, meandering stream, all green moss and clear water, and across it, about 5 feet over the riverbed, was a wooden bridge, about 10 feet long. Needle has adamantly refused to traverse any wooden structure since the accident, something that has made a few doctors hard to see, and the back decks of his new home a challenge.
He went right over it, talking the whole while. He did the same with the next three bridges, one easily 100 feet long, that rattled in a slightly unsettling manner. Even when we came to a not-well-marked section of the trail and got a little lost, he helped us find the path and zoomed down the trail (cutting a few people off as he went, of course). Down, down, down.
We hit the turnaround point, and Tuffy and I checked to make sure we'd brought the necessary equipment to help haul Needlenoggin back up the 5 mile hill. We rested at the bottom, drank some water, and then we went back. Up, up, we climbed. Slower than the woman power-walking up the hill, we pedaled. Needle, too. The woman was giving exasperated glances at the disabled riders coming up and down the hill, and Needle nuttered under his breath "You think you're better than me because you can
walk
?" and redoubled his efforts. We passed her on a straight way, and he got very smug.
A mile further, and the trikes right back wheel hit a ditch, dumping Needle off the side of the road. Tuffy and I pushed the trike back onto the asphalt, and away he went. That was the only physical assistance we gave him.
As we got to the home stretch, Needle started sweating, and pushing himself as hard as he could. I tried to come up on the side of him, and he'd cut to the middle of the road, keeping me behind him. I realized we were racing when he laughed across one of those wooden bridges. Tuffy caught up, and we crossed the finish line a few feet behind one another, Needlenoggin first.
In just over an hour, my 240lb paralyzed brother, who was supposed to be on a respirator and checking for bedsores on his totally useless legs, had biked 10 miles. I was thrilled.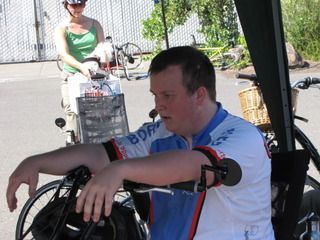 He was exhausted.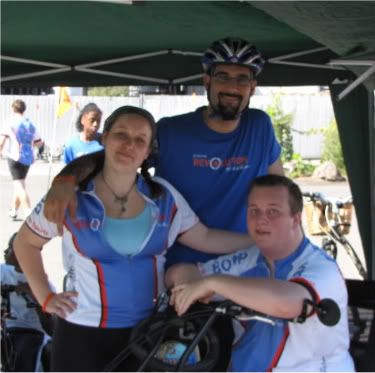 We took pictures and headed him, but not before handing over the big check to BORP. With everyone's help, Needlenoggin raised $7250 AND was able to buy an adaptive trike of his very own. Last week, in Portland, he harnessed up Dingo and took her for a run, all by himself. Such things were supposed to be impossible, absolutely out of reach, but he's had a miraculous recovery, and as a family, I think we've done alright together.
Now, look, Needle isn't perfect. In some ways, he's a young, teenage kid again, and that can sometimes make him thoughtless and irresponsible. When Tuffy's back tire went flat, Needle pushed on, not even thinking about waiting for Tuffy, who was prepared to drag him up the whole 5 mile hill. This has been very hard for my husband, who has given so much of his time, effort and sleep over to Needle's care, and who feels like there isn't a real connection between them. Needle's behavior isn't meant as an insult, he just doesn't think, and I think the mental issues due to hitting his head as hard as he did are really going to be his biggest challenge. Still, it was hard for Tuffy, who felt sort of left out the entire ride.
As of mid-September, Needlenoggin no longer lives with us, though he is close by. He has two part-time attendants and lives on his own with Dingo, and comes to visit us weekly. He even climbs the front steps and up into the play room to watch TV with the kids. We've found him a doctor at Oregon Health Sciences University. His next appointment, where he'll get all of his neuro/physical therapy/whatever appointments is on 10/28. He has no health insurance, but that's what the settlement was for, and he's stable on his medications.
Thank you to everyone.