So, Rorysaurus has trauma. At first, she was pretty calm about the whole thing, telling strangers she'd fallen down with her uncle and all. Then, she found a picture her grandmother had drawn for her, and edited it.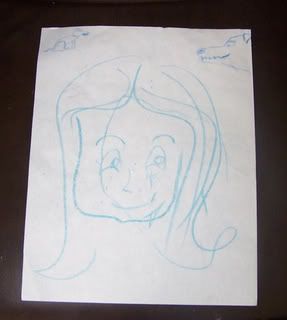 Those are tears she's drawn on "her" face. "This is me. I'm crying." She went on to try and draw on her doll, Elizabeth, so she could cry as well. Fine, fair enough.
Then, Elizabeth lost her legs.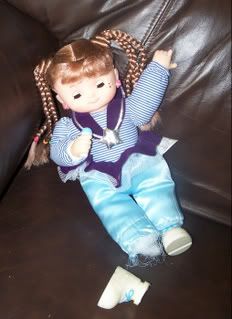 "So she can't walk." That's right, she's tearing the legs off of her dollies so they can't walk. She also holds imaginary conversations with people on her toy phone, telling them she has "cuts and bwuises." Oh, and she'll lay under her bunkbed clutching her Batman doll to her chest, and say "We fell. Go get help."
And her "painting" of Batman. First she painted him blue, and then decorated him in red.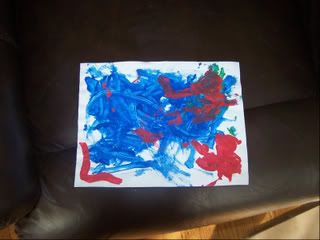 "He's bleeding," she tells us. She cries, wakes up in a cold sweat with nightmares and won't leave Needlenoggin's room. She's never been a snuggly child, but now she's demanding to be carried and held, and weeping at the drop of, well, anything.
Oh, and she got a
Doodlebear
(a bear you draw on) from the fire guys. She draws owies and band-aids on it, and throws it down the front stairs. "You can't feel your belly. It hurts you!" (Needlenoggin was crying out that he couldn't feel his belly when he was waiting for the paramedics).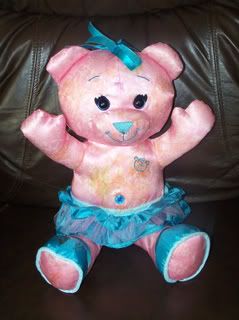 Getting near the back stairs (the door nearest the bathroom) has caused her to cry out that the stairs scare her, and to refuse to be consoled for 45 minutes and to assume the fetal position.
::sigh::
So, our
wonderful, beautiful and perfect
pediatrician is sending her out to a pre-verbal PTSD specialist. I feel a little Berkeley for sending my 2 year old the therapy, but what can I do? She's scared and haunted and horrified.