Hooray! I am happy to report that Needlenoggin's spinal drain is out! As of sometime tonight, he'11 have been moved to the TCU (Trauma Care Unit), where there's a little more room, fewer beeping machines, and a TV. Still, I'm sure he'll miss the ICU...his room is so awesomely decorated. Notice a theme?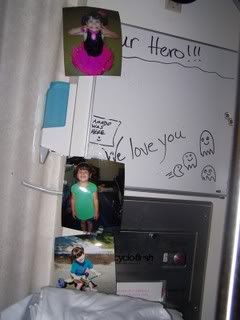 Rorysaurus has been scheduled for her first PTSD therapy appointment on Friday at 11 am. She's begun climbing into my lap to tell me that she's a baby, and pretending to act like Little Monkey. She even drooled on the floor to make her point. :p
Oh, and checkout the video. Most of thse movement is involuntary but two twitches are him busting his butt.