As we were gearing up for the
Oakland Firefighters' Random Acts of Kindness
dinner and dance, it occurred to me that Needlenoggin didn't own a suit, and that my one fancy dress didn't fit anymore (yay for losing weight, right?). This was going to necessitate shopping and alterations.
Needlenoggin has never been a particularly fancy dresser, so we didn't have any idea what size he wore or his measurements. I decided that the best thing to do would be to head into a store, get him measured, then find a suit the right size on Ebay, and get it tailored to fit him. So, while listening to the radio, I hear an ad for
Cassara's Fine Men's Wear
in Dublin, California. They were remodeling, and the ad promised *fantastic* deals. I figured I could go there, get him measured, maybe buy him a tie, and eye-ball pretty clothes for Tuffy for when we have money to spend.
So, we drove out there in February, and were greeted by the family that owns the store, a father and one of his sons. Tony, the father,
is from Italy
, and opened this store to sell wonderful clothing at great prices, and he does the alterations himself. He pulled out a bunch of different sizes and styles, found one that Needlenoggin really liked, and put the jacket on him, in the chair. Then he started drawing all over the jacket with tailor's chalk, telling us that he's done alterations for wheelchair users before, and that the reason the jacket seems tight across the back is that in a chair, your arms are forward, instead of down at your sides. He talked about moving the arms of the jacket forward and shortening the length (so it doesn't get caught in the wheelchair wheels).
All the time he was talking, I was trying to figure out some nice way to tell him what we could afford, and then told me how much the alterations were going to be. They were more than our meager budget for the suit. I guessed at that point that what I'd do was go buy a cheap suit online, and come back with it to have it altered, since that was going to be necessary anyway. As I explained what the suit was for, and what Needlenoggin was being recognized for, Tony started to smile. I told him that I'd love to have him do the alterations, but that his suits (wool, cashmere, silk) were FAR better quality than we could afford, and that I needed something from a Ross, especially if it needed to be altered.
Tony told me the price of the suit, and then what it was during their *fantastic* sale. Still crestfallen, I started in on my "thanks-but-no-thanks", and he took it to the counter, half ignoring me, and started applying other discounts to the suit. What the price finally came to was barely more than the original estimate for alterations, and I started to protest, knowing that the total price was about an eighth of the original cost of just the suit. Tony didn't say anything, and rang us up. I began to cry a little.
I told Needlenoggin he was going to have to get married in that suit.
When we came to pick up the finished suit, it was magnificent. The arems were forward so that the jacket looked smashing on, and the coat was short enough that it didn't interfere with the chair. "I kept the fabric in the coat," Tony explained, "so when you start walking, you come back here and I'll lengthen it out again for you." ::sniffle::
Then we opened the coat: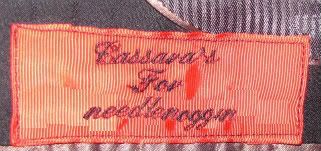 Needlenoggin's full name was stitched inside.
Getting ready to leave, Needlenoggin stopped to feel at the lovely ties in the display, and I told him we could buy him one of those, if he'd like. He showed me this marvelous black and green tie, and talked about how awesome he thought it was. Tony heard us, and told us he picked out the fabric and made that tie himself. We were amazed. Then, he pulled it off the display, looped it over my brother's head, and said, "Happy birthday."
We're getting photos of Needlenoggin at the firemans' ball framed with a "thank you" ready to take out there.
Then there was my dress. See, I'd bought a dress off of ebay for Christmas: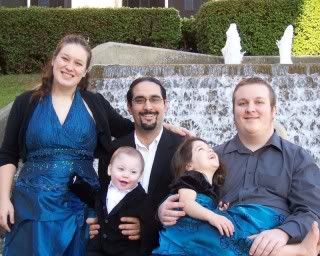 It was still a LOVELY dress, so I wanted to wear it again. However, there were two minor problems...the ties on the dress, which I always felt were unnecessary, were tearing off (thank you, toddler-of-mine), and I'd lost 15 lbs, so the dress was too big. On a recommendation from a friend, and Berkeley Parent's Network, I dropped my dress off at a local tailor/drycleaners to have it taken in an couple of inches, and have the straps pulled off.
This was on Monday, and I said I needed to pick it up no later than Saturday morning, because the day was going to be hectic at best. I was assured that this would not be a problem. On Thursday, I stopped in, and was told that the dress wasn't ready yet, but might be done Friday. If not, it would be ready at opening on Saturday morning. I reminded myself that I should always factor in an extra day (say that I need it on Friday if I need it on Saturday), but what ever, I went home.
Saturday at noon, between baths for the kids, I went back to the tailors. Still no dress. They hadn't even started on it. In a panic, I started to cry, whereupon I explained the ball to the owner, and my frustration that this wouldn't be ready, even though I'd check on it two days earlier. She told me that this was highly unusual for her shop, and offered to do it herself, right then. "Go home and dress your kids and your brother. I'll do it right now and have it brought over." She did, indeed and did a marvelous job. The dress arrived at our place around 3pm, brought by her husband and the shop's co-owner. Complimentary.
I've NEVER had a company do so much to make something right, and I want to fully endorse
Norge Cleaners
in El Cerrito as a great shop run by kind and helpful people. We had a little panic there, but they made it good, and for that I am thankful.
(Next post, you get to see how we look in our finery. :) )