Well, his medical drama continues. I saw Needlenoggin on September 7th before Little Monkey's surgery, but after his horrible experience with the terrible night-nurse, I got my mother to call every shift to talk to each and every nurse assigned to him at SCVMC. We made sure he got his medications on time, and everyone told us he was doing splendiferously.
Turns out, that wasn't the case. The catheter that was misplaced continued to be uncomfortable, and began to bleed. This triggered some worry, but not really enough to do anything. Then, on Monday, the 15th, he was delirious and difficult to understand on the phone. Tuesday, he called incredibly confused and in tears. They'd not gotten him all him medication again, and he had a fever of 103. They had put him in his chair at some point, and he was so dizzy and uncomfortable that he went rolling down the aisle looking for a doctor. A nurse, who we'll call "Mess", told him he did not need to see a doctor and was fine. When, during their conversation, he nodded off because he had a fevergot in his face and screamed at him, and then forced him back into his room. Then, he was put back in bed and not medicated or turned, and was ignored as he called for the blankets to be taken off of him, or for ice packs. That's when he'd managed to call my mother.
Needless to say, I was so mad I could spit. He told us that eventually, a sweet nurse who wasn't even assigned to him, Jackie, came into his room and put ice packs on his legs and a cool rag on his forehead, and held his hand while his fever came down a little. We called her to let her know she was an angel and, at his request, brought her a tin of cookies. She was compassionate and kind and good, and provided the kind of care that everyone hopes their loved ones are receiving in the hospital.
Anyway, at that point they decided to find out what had been causing that whole nearly-brain-poaching fever, and it turns out, it seems to be a kidney infection. You know, the kind of thing caused by a misplaced catheter and orders to have a very, very, very low fluid intake? Grrr.
We got there on Tuesday afternoon to discover that, despite orders that his back-staples come out on the 10th and his cast come off on the 12th, it was now the 16th, and neither had been done. His attending physician came in and let us know they were going to do a CT scan to check for infection. "But," Needlenoggin inquired, "didn't they just do a scan two hours ago?" Of course they had, but the orders for the neck-to-hip scan had been ignored and they'd only scanned his lungs. Irritated, Needlenoggin asked about the cast again, and was assured it was coming off right then. He rolled his eyes, and the doctor seemed surprised he didn't believe her. "I've been promised that this thing was coming off for 6 days," he told her. She then promised that she'd get someone to wheel him in to the cast guy before his CT, in ten minutes or so. After 4 or 5 minutes, my mother and I went out to wrangle the kids so they could ready my brother for his trip down. We were told to come back in an hour or so.
An hour later, I came back in and said, "Hey, you're back!" He turned to face me. "Back?! I haven't gone anywhere!" We went to go find nurses, and they said they'd been waiting for the cast guy to come up and get Needlenoggin (not Standard Operating Procedure). So they called down, and the guy, who'd been waiting for Needlenoggin to be wheeled down to him for over two hours, and he was on his way out for the night to go to dinner. "He can't wait just five minutes?" Needlenoggin implored. My mother talked to the guy and he agreed to cut the thing off. "You're wonderful," she told him. "Yeah, well, tell my wife that. I'm late for our dinner date and she's going to be angry." (We bought his wife flowers and a card the next day).
We got ready to leave that Tuesday night with plans for my mom to head back on Wednesday morning, stay the night, and for us to come get her on Thursday.
"Wait," he said. "Before you go, I have a trick to show you. It is a LOT of work and will tire me out." Here's the trick:

Can you believe it? He says that he's still in loads of pain, and he thinks he's just learned to trigger a spasm to move the leg, but "moving is moving, right?" I'm so pleased for him! (I hate to note this, but this ability to focus all of his strength, to the point of exhaustion, so that for just a few minutes he can force small, uncontrolled movements of his legs, does not make Needlenoggin UN-paralyzed. His prognosis is still grim, and his chances of EVER getting out of a wheelchair, short of this robotic get up:
is very, very, very shoddy. I feel like I have to mention this as two people emailed me to say how happy they are that he's now all better. He isn't. The best part of this news, really, is that it means all the nerves aren't shot, and that he may regain bowel and baldder control sometime in the future.)

The next day we sent my mom down on BART to see him, and she took down the flowers and cookies and candy for the cast guy's wife, Jackie, and the other nurses who aren't hurting him. While she was there on Wednesday, they took out his back staples and started him on antibiotics.
Thursday night, we all came in, and Needlenoggin got to see Rorysaurus: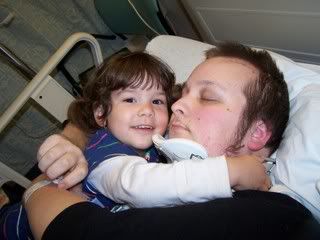 Made both their days. Rorysaurus also made friends with another patient's girlfriend, and when she'd wander off, we'd find my daughter snuggled up in this young lady's lap. A very sweet family, that one. Little Monkey babbled happily at his uncle, who was mildly disconcerted. "It interacts now?" He asked of Little Monkey. "See what happens when I go away?"
So, now he's on oral antibiotics and, supposedly, his Medi-Cal application has been approved (I'll believe it when I see it, though). As it stands, he should be back at the end of the first week of October, if all of his medications, equipment and paperwork are done AND he's been assigned to a new GP and spinal rehab outpatient center.