So, Thursday night the hospital bed had arrived, and we were expecting the Hoyer lift sometime on Friday. The bed is a piece of crap, as old as I am, and instead of two rails on each side (one at the top and one for the feet) there are only top rails. Oh, and they're old and badly attached, so I'm not sure they'll withstand all the tugging/pulling that Needlenoggin has to do to roll around in bed. We've fitted it with the anti-bedsore mattress cover Gloria provided for us, and got it all made up, waiting for him.
Friday morning my mother and I headed down to SCVMC early in the morning. The Hoyer arrived, and got set up, along with his monkey-butler (he'd asked for a telescoping chair and a monkey butler to serve him drinks. So far, no good on the chair, but here's Jojo):
We started on the training, which includes range-of-motion exercises, getting a wheelchair up and down a curb and medications (including shots, yay!), food schedules, etc. They were adamant about not giving him a power chair, so I decided to go buy the used one I'd seen an ad for. I thought we had this pretty under control, so Tuffy and I headed out to Monterey.
then, the medication crisis arose. Seriously, people, what a system. Seems that the medications, all 12 of them, were submitted to Walgreens under his Medi-Cal insurance. However, at one point Needlenoggin had filled a prescription at a Walgreens when he was still living with my parents, under their insurance, so Medi-Cal decided he had Blue Shield insurance, and that they didn't have to pay for anything. Umm...what? And, we learned that without a TAR request, Medi-Cal will only fill 6 prescriptions. Six. So the other six were going to have to be out-of pocket with one of them a $3500 a month medication, or he'd have to do without.
Which ones should he give up, though? the anti-spasm medication, his pain meds, the ones that treat his anxiety and depression? The ones treating his blood clots? Just one more HUGE problem with the under-funded healthcare system in the US, and how it is harming or killing poor people by making them choose which of their lifesaving medications they will get every month. Makes me so angry.
Anyway, so, after much discussion, we wheedled the meds down to 9 (some were redundant and some we could get over the counter (expensive, but still). We learn that Walgreens has to get a fax from Blue Shield explaining that no, he doesn't have coverage through them and hasn't for years, and then Medi-Cal will cover the 6 medications they want to. We have to apply for the others, and it will take 7-10 days. Needlenoggin will have to remain hospitalized for another week or more, and he finds this out on what is supposed to be his last night? That simply isn't going to work, and my father and I both said so. Eventually, he ended up paying for a week of the medications out-of-pocket (not cheap, either) so that Needlenoggin could go home while this whole mess got sorted out. We all struggled back to the lodgings for the night, and crashed.
Saturday morning dawned bright and
EARLY
and we all piled into the van, with BAGS of stuff, two wheelchairs (manual and electric) and a week's worth of expensive medications. We'd waited around an extra hour past what we'd planned waiting for someone to read his ultrasound and tell us if the clots in his legs were gone, but no one came. We told them to callus on Monday, loaded Rorysaurus into Needlenoggin's lap, and moved out.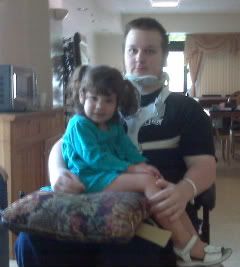 We stopped for lunch at Fuddruckers (a place my family used to go a long time ago, when I was very little), had chili and burgers and fries, and had an enjoyable time.
Then, we drove the last few blocks home, and Needlenoggin rolled into his new home for the first time.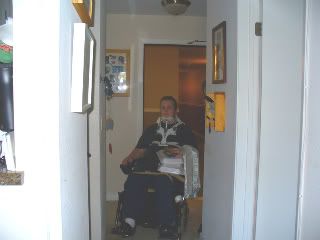 It was bittersweet, and I know this is going to be a rough transition for everyone, as we're working on getting the tables at the right height and navigating the corners of bedrooms and bathrooms. We're all very glad to have him home, though.