So, this week I piled Little Monkey into the bakfiets (Dutch Box-Bike) and took him out to the opthamologist, dreading the whole arduous task of detting his pupils dialated, holding him still and letting the doc do an exam. However, it only took about four minutes once the doctor came in for us to be totally done and over...no drops or anything. He used a pen-light to distract Little Monkey, and then talked soothingly to him, asking him how "big doggies" had crept into my son's eyes while peering through a magnifying glass. Little Monkey just stared at him.
Verdict? No intracranial pressure (at least not enough to be pressing down on the optic nerve). Yay!
I LOVE Children's Hospital. I love how sensitive the doctors are (both to the kids and the parents) and how calming and reassuring they are. Everyone should get care this complete with doctors this nice.
Oh, and on the way home, we found a new store. It is right on the corner of 52nd and Telegraph, in the Walgreens shopping center next to the Deli.
Ruby's Garden
used to be a flowershop and kids' boutique, but now it is a CUTE little kids' store, full of organic clothes, recycled-bpa-free plastic toys
and
a great assortment of used stuff. The flower room in the back is getting converted into a birthday party room (I'm very tempted to hold Little Monkey's party there in December). If you're in the bay, please check them out...you will not be sorry!
Here are the two trucks we bought there (barely used, and they were less than $15 TOGETHER), (we also bought a fire-fighter book for Rorysaurus and a Tshirt she'll have to grow into). (I'm pretending that my son and daughter will share the fire-truck, but at least I know I'm dreaming, right?)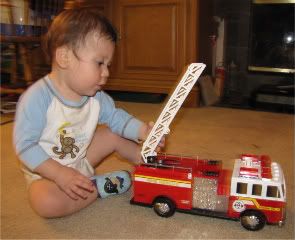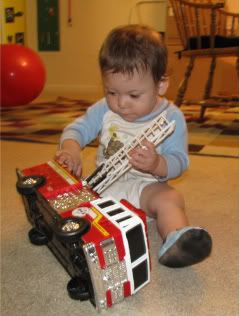 Very cute.
So, on Tuesday Little Monkey has his general 18 month check-up and shots, on Wednesday he sees both the speech-pathologist and the cardiologist (since his appt got bumped before) and then Thursday he sees the Neurosurgeon/Plastic Surgeon combo again for the first time since his 9/2008 surgery. I'll update after all of those are done, unless we have pressing news.