Wow, a couple of good-news posts in a row!
When one of my mother's friends heard about Needlenoggin and Rorysaurus' accident, she felt compelled to do something. So L. N. spearheaded a movement to get blankets made for the two of them. She wanted to make a twin-size duvet for Needlenoggin and a kid-blanket for Rorysaurus, and asked for ideas.
For my daughter, of course, it was easy: Batman. L. N. was surprised, but pleased, and told us she had
just
the fabric for it. For Needlenoggin, we took a sheet and laid it out on the floor, and then had Rorysaurus dip her feet in white pain and run all over it. We figured he'd like that best of all.
Well, in April, the blankets arrived.
We sat Rorysaurus down in her Batman chair, with her Batman doll and her Batman slippers, next to her Batman castle (yes, there's a theme). We then blindfolded her, and tossed the blanket on her lap:
Then she opened her eyes. Oh, was she pleased! The Batman on her blankie is almost as big as she is, and it is awesome:
And look at the flame-trim! Too cool.
Then it was Needlenoggin's turn. First, we has her sign it (the artwork was hers, after all):
Then we drug it over to Needlenoggin and tossed it on him in bed. He's a fan, but wishes I and my camera would go away. So, instead of seeing my brother, you get a picture of my Little Monkey on the blanket, after we've washed the dog-footprints off of it: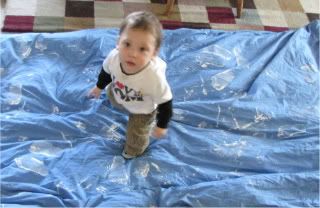 Each blanket, by the way, has a small patch attached of Psalm 9:10:
I'd have gone with Isaiah 40:31, personally:
"They that wait upon the Lord shall renew their strength; they shall mount up with wings as eagles; they shall run and not be weary; and they shall walk and not faint."
I want him walking and running (and not fainting would be good, too).
Thank you.