Note: Hold your horses, people! The last update was entitled Part 1 for a reason...I just couldn't type and save and send all at once.
Before we left on Friday, I told the social-worker at the Center that there was NO WAY I was taking him home before the first of the month, or before he had all of his equipment. From independent research (calls to agencies, brochures, etc), I've learned that the in-home-care-personnel issue is a state problem, and not something the Center itself can take care of. Basically, they can't evaluate what he needs at home until he is at home, so IHSS won't come to a nursing facility and start the process. Basically, we get to pay for outside assistance out-of-pocket until they've figured out how much care they will finance. There's no way around this one.
However, as soon as I started talking about nursing homes (since I, by myself, 3 weeks out of surgery wouldn't be able to transfer him from bed to chair without an electronic lift, for example), they started talking about getting the vendors to loan me his equipment pending Medi-Cal payments, and were much more cooperative. And I wasn't bluffing. Until 10/1 AND the promise that all his equipment and medications can come home, I cannot, and will not take him home with me. I'm aware that I have
sometimes
been rumored to overextend myself a little, but with Little Monkey and me both being recently post-op, and Tuffy back at work, I was being totally honest in my inability to take him. No bluffing and ni lying. Just, "no."
However, given that he now needed surgery, his release date (and my training dates) are sort of up in the air.
So anyway, we gave the people at the Center Needlenoggin's surgeon's info. Then, on Friday, at the advice of a lawyer, took a letter to Highland, saying that we were requesting that his surgeon get a hold of his caregivers at Valley so that any permanent impairment on Needlenoggin's behalf could be avoided. Amazingly enough, the surgeon called Valley that day, they discussed his fluid collection, and decided he needed surgery on Saturday because the fluid buildup could end up pressing on his spinal cord hard enough to cause damage, or could end up pressing on his brain. So, Needlenoggin was tucked into an ambulance and trucked back out here to Highland on Friday night.
Saturday morning we kept trying to reach him before surgery, but couldn't get through (although I discovered later he'd called my phone and left a message), and he was wheeled in to the OR to find the tear in the tissue around his spine that was allowing the leak. (Special awards go to my mom, by the way, for being present and active at Rorysaurus' 3rd birthday party, and letting the Rorysaur know how much her Nana loved her, while Needlenoggin was under the knife. I know how hard it is for me to focus on anything else when Little Monkey is getting cut on, so my mother deserves major, major brownie points for this).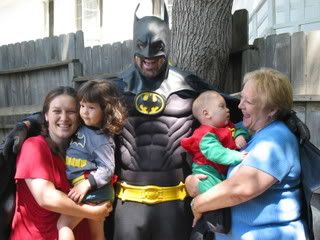 He came out of surgery well, but they hadn't managed to find the leak in any of the layers of tissue around his spine. They decided to just let him recover at Highland and drain for a few days. Then he'll go back to valley, and then he'll get re-assessed (including whether or not his broken arm has healed enough for him to make more Medi-Cal-approved "progress" which would let him stay at Valley even longer (the longer, the better, since he gets care there he'd never get as an out-patient client).
So, that would be the end of the adventure, right?
Not for this family!
We dropped my mom off at the airport on Sunday night so she could return home, rest, and pack back up to come here on 9/8 in time for Little Monkey's craniectomy. So, we drop her off and say goodbye, and head home. Tuffy goes to visit Needlenoggin. And then my mom calls.
From an ambulance. On the way to Highland Hospital.
Seems she was boarding the plane, and getting into her seat, she was using the seat-back ahead of her to maneuver into her seat. the seat reclined without warning, and she spun 180 degrees. Her foot did not, so she tore ligaments in her knee...which will necessitate surgery in her home town. She stayed overnight in the ER, and then went home Monday afternoon.
So, now, of course, I won't have anyone here to watch Rorysaurus while Little Monkey is in surgery. He'll be in pain, hungry (but unable to eat), lonely (but unable to be held) and scared (but unable to see) so I plan on being y his side talking to him the whole stay. Tuffy had planned to spend some time with me, some time with Rorysaurus (so she didn't feel abandoned) and some time packing, since our move-in date is the day Little Monkey gets released from the hospital. Now, for us to even meet in a hallway for a hug or some tears, or to eat a meal together for a week, Little Monkey would have to be left alone.
Seriously...what did any of us ever do to deserve this?